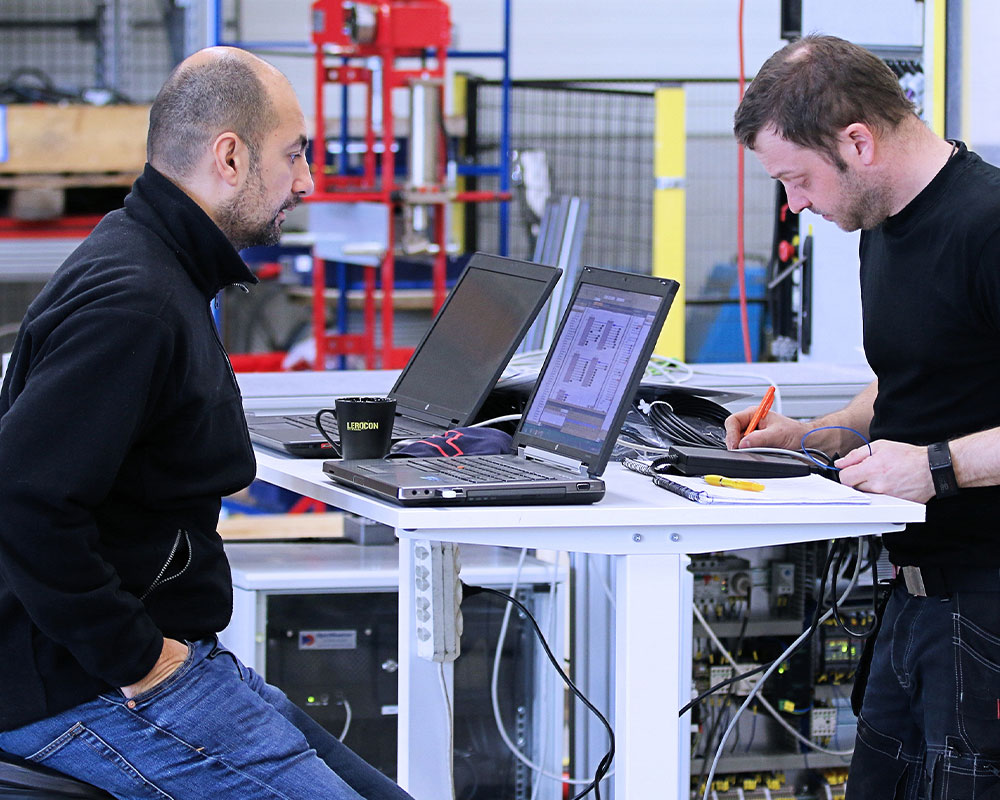 MultiWeld
Multi Weld is our special designed machine model for multiple stations on one frame.
The base model is delivered with one welding station but it is possible to expand up to four welding stations.
The welding stations can be delivered with shared- or individual welding circuits.
The machine design also gives the opportunity to feed material straight through the machine to a bin or pallet outside the robot cell.
Of course Lerocon quality options also is available for the Multi Weld machines.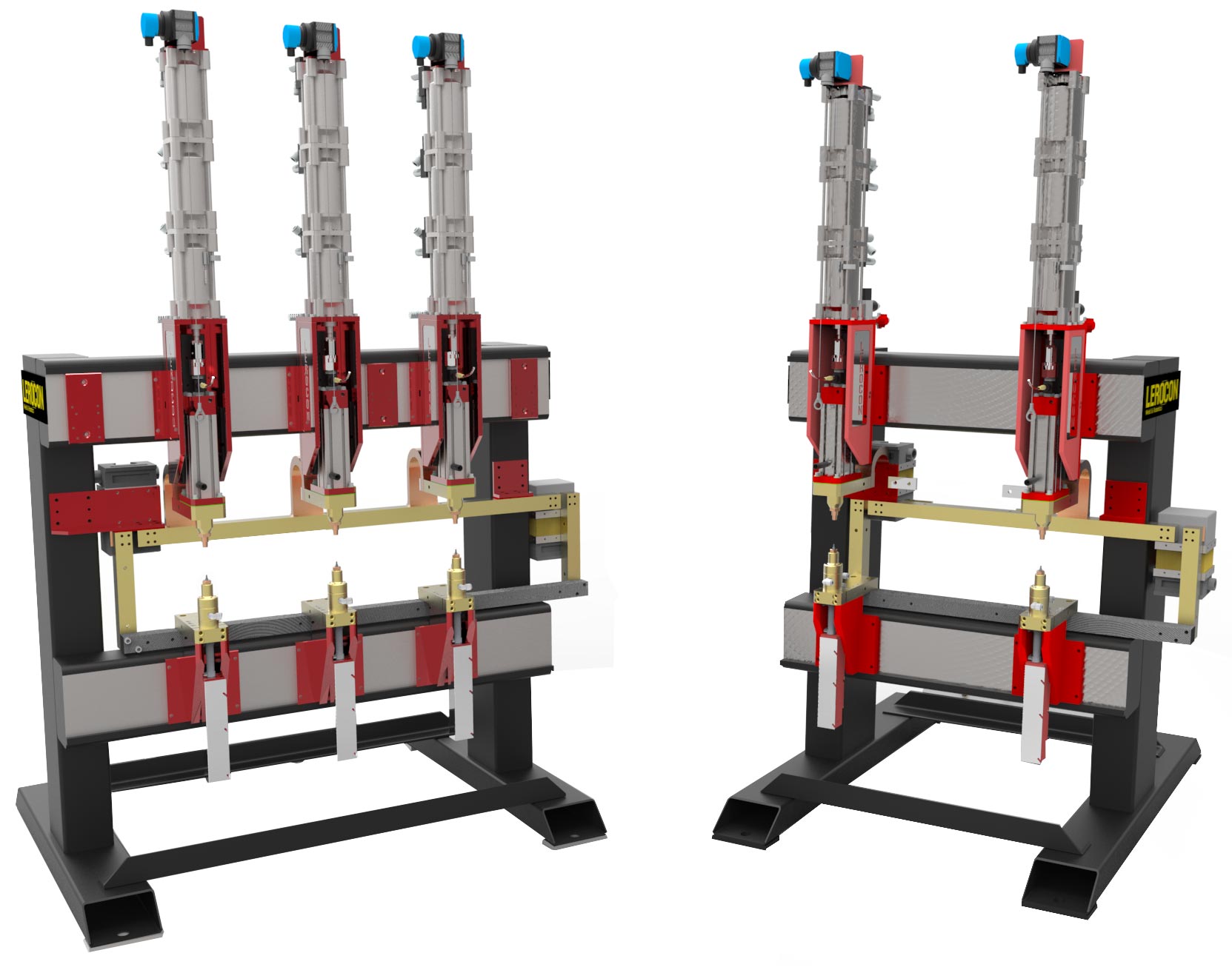 Standard application

Bosch 36kA or 54kA welding inverter with 256 programs
130kVA transformer
95 mm pneumatic stroke of the welding cylinder
Lerocon HMI operating panel with recipe management. (Swedish or English version)
Beckhoff PLC
Cylinder Packages in red anodized aluminum
Prepared for Dengensha nut feeder
Strong solid steel frame with 500, 700 or 1000 mm working depth
Options
Lerocon GPR Weld Tool – Welding tool with "guide pin retraction" for faster repositioning and quality assurance.
Lerocon HMS – Height measuring system with high accuracy.
Easy setup in Lerocon HMI for control of height of the materials before welding.
Lerocon MHA – Mechanical height adjustment of the start position for the welding cylinder.
Lerocon GPM – Guide pin measuring system with high accuracy.
Easy setup in Lerocon HMI. Note, this options require Lerocon GPR Weld Tool.
Checks that the guide pin is in correct position before welding.
Lerocon FMS – Force measuring system.
AC Welding Circuit
A.P.E.S – Automatic Part Evacuation System
| Machine MultiWeld MW2 | | LM_MW2_36kA | LM_MW2_54kA |
| --- | --- | --- | --- |
| Welding Timer Bosch MFDC with profinet | | PSI 6300.750W1 | PSI 6300.750W1 |
| Transformer Bosch 130kVA | | 1x PSG 6130.00 AS | 2x PSG 6130.00 AS |
| No load secondary voltage | V | 9 | 9 |
| Supply voltage 50Hz | V | 3x400 | 3x400 |
| Recommended delayed fuses | A | 150 | 250 |
| Cylinder | | Trippel Ø100 | Trippel Ø100 |
| Cylinder stroke max | mm | 95 | 95 |
| Electrode working force (1,5-8 bar) - standard | N | 1177-17717 | 1177-17717 |
| Water cooling max 30° C | I/min | 15 | 15 |
| The Water flow must be measured on the return loop! | | | |
| Example - Air consumption at 6 Bar Trippel | | 20,51 litre /Cycle | 20,51 litre /Cycle |
| Power and communication cables - cainet to machines | | 7 m | 7 m |
| Other lengths on request | | | |
| Machine MultiWeld MW3 | | LM_MW2_36kA | LM_MW2_54kA |
| --- | --- | --- | --- |
| Welding Timer Bosch MFDC with profinet | | PSI 6300.750W1 | PSI 6300.750W1 |
| Transformer Bosch 130kVA | | 1x PSG 6130.00 AS | 2x PSG 6130.00 AS |
| No load secondary voltage | V | 9 | 9 |
| Supply voltage 50Hz | V | 3x400 | 3x400 |
| Recommended delayed fuses | A | 125 | 250 |
| Cylinder | | Trippel Ø100 | Trippel Ø100 |
| Cylinder stroke max | mm | 95 | 95 |
| Electrode working force (1,5-8 bar) - standard | N | 1177-17717 | 1177-17717 |
| Water cooling max 30° C | I/min | 15 | 15 |
| The Water flow must be measured on the return loop! | | | |
| Example - Air consumption at 6 Bar Trippel | | 20,51 litre /Cycle | 20,51 litre /Cycle |
| Power and communication cables - cainet to machines | | 7 m | 7 m |
| Other lengths on request | | | |
| Machine MultiWeld MW4 | | LM_MW2_36kA | LM_MW2_54kA |
| --- | --- | --- | --- |
| Welding Timer Bosch MFDC with profinet | | PSI 6300.750W1 | PSI 6300.750W1 |
| Transformer Bosch 130kVA | | 1x PSG 6130.00 AS | 2x PSG 6130.00 AS |
| No load secondary voltage | V | 9 | 9 |
| Supply voltage 50Hz | V | 3x400 | 3x400 |
| Recommended delayed fuses | A | 125 | 250 |
| Cylinder | | Trippel Ø100 | Trippel Ø100 |
| Cylinder stroke max | mm | 95 | 95 |
| Electrode working force (1,5-8 bar) - standard | N | 1177-17717 | 1177-17717 |
| Water cooling max 30° C | I/min | 15 | 15 |
| The Water flow must be measured on the return loop! | | | |
| Example - Air consumption at 6 Bar Trippel | | 20,51 litre /Cycle | 20,51 litre /Cycle |
| Power and communication cables - cainet to machines | | 7 m | 7 m |
| Other lengths on request | | | |