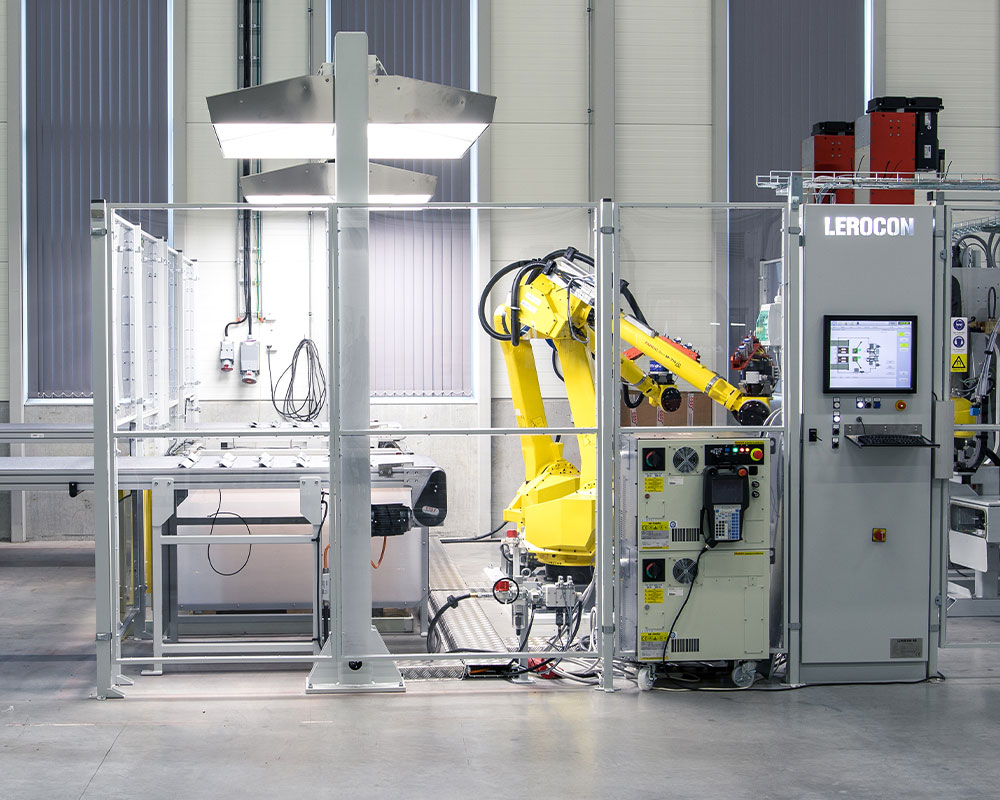 Lerocon Confeeder Compact NW
A modular and flexible detailed feed system from Lerocon, designed for fast installation, short cycle times and with features for maximum quality assurance and traceability.
Confeeder can be combined with other systems, products and available options from Lerocon.
Flow description
The operator selects recipes on the operator panel and loads the track with detailed details
The details are entered into vision systems that send picking coordinates to the robot
The robot picks details from the track, welds all the nuts screws and puts finished details on the track
Nuts are fed and loaded by Lerocon UniFeeder
The cell has high flexibility with the help of integrated vision systems and Lerocon UniFeeder for feeding large variety of fasteners!
The standard cell includes
Robot ABB IRB 1600 or Fanuc M10iA
Lerocon C-Frame Pneumatic 36kA, 1x130kVA MFDC weldmachine
Lerocon GPR welding tools with a set of wear parts
Lerocon UniFeeder flexible and fast feeder for fasteners
Camera stand with lighting adapted for vision systems
RSP gripper gear changers
Lerocon HMI operator panel (Swedish and English version)
Band conveyors for input and output buffer included quality enhancing features
Ability to stack details on track
Function for interval checking of details included in plc and robot program
The fence included a door with a lock
Cell built on removable platform for easy installation. Size adapted for container
CE marking in accordance with current European machine directives
Complete documentation and manual are delivered in digital format
Testing at Lerocon's premises before delivery
Available options:

2 pallet systems for changing pallets during operation.
Extractor hood above stool
Gripping down racks and automatic grab rails replacement.
Welding machine with 54kA inverter and 3x130kVA transformer.
AC Welding machine for welding demanding materials.
Tailor-made grippers and welding tools.
Turn key delivery with commissioning of customer-specific details.
Cooler 5kW.
Extra nut or screwdriver.
Box handling of finished details.