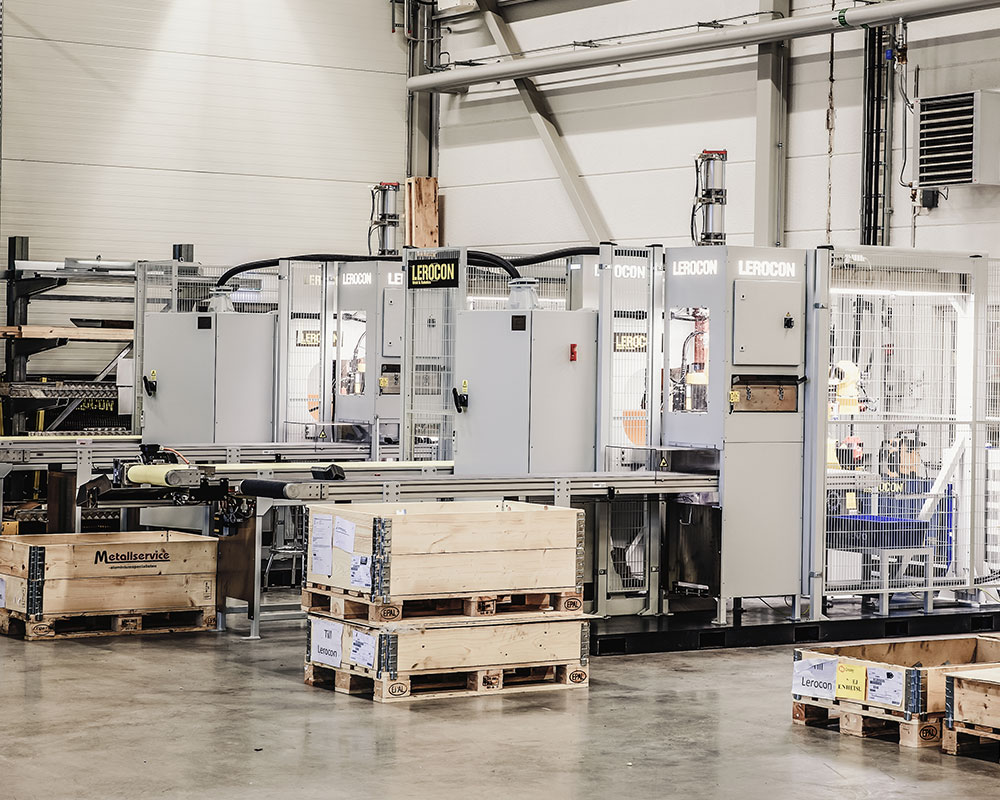 Lerocon Confeeder Compact Insertion
Description – Work Flow
The machine operator selects recipe (article number) in the operating panel and load the ingoing parts on the belt conveyor.
The parts is fed into the vision system that sends coordinates to the robot.
The robots picks the parts from the belt conveyor and position it to the
insert unit.
All nuts or bolts is fed by Lerocon UniFeeder and mounted in the insert
unit.
 Handling robot control the part byt vision system and put the finished
parts on the out conveyor or in box on out conveyor.
High flexibility with integrated vision system for handling robot and UniFeeder Nut & Bolt feeder!
The standard cell includes
Robot Fanuc M10iD
Lerocon C-frame Insertion Unit with up to 30 ton press force
Lerocon GPR insertion tools
Lerocon UniFeeder – Flexible Nut and Bolt Feeder System
Camera stand with lightning adapted for vision system
RSP Tool changer with swivel for manual tool changing
Lerocon HMI operating panel. (Swedish and English version)
Belt conveyor for in- and output of parts, adapted for quality assurance and short cycle times. The output conveyor stops at a machine error. When the operator has acknowledged the error and started the cell again, the conveyor runs backwards for a while and then go back to normal operation
Possible to stack parts on the output conveyor. (Quality function that runs the conveyor backwards will not work in this case)
Function for control of parts with preselected range, included in PLC- and robot program
Safety fence, included 1 door with lock
Movable platform for easy installation. Size adapted for transportation in container
CE-marking according to European Directive
Complete documentation, delivered in digital format
Try out in Lerocon facilities in Gislaved before delivery
Available options
2-pallet system, For finished parts and be able to change pallet during production.
Gripper stand and automatic tool changing.
Customized grippers and tools.
Box buffer and packaging
Commissioning.
Additional nut/bolt feeder.